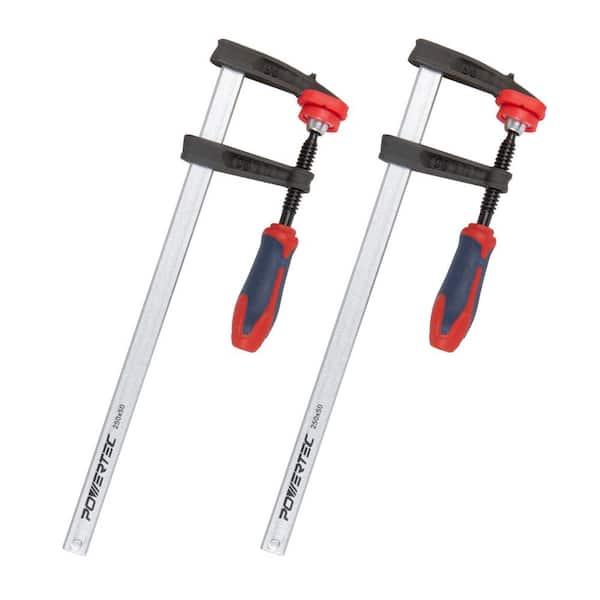 I think it's pretty accepted by woodworkers that if you want clamps fast, and in quantity, without paying through the nose, the best option is going to Harbor Freight.  Certainly, Harbor Freight gets a bad rap in some circles for being cheap, and is why your snootier woodworkers, who aren't me, will clutch their pearls at the very notion of using anything from Harbor Freight.
But I'm not snooty and never subscribe to the notion that 'cheap' means 'not good'.  Hell, some of the best tacos I've ever had were basically dirt cheap.
This is not to say that in a Pepsi-challenge-style-taste-test I wouldn't opt for the Jorgensen and Bessey clamps, because you bet your ass I would.  I have both brands of clamps in my shop and opt for them first.  The fact is they just feel like a more quality product, they feel more heavy-duty, and they have a nicer feel in hand.
On the other hand, given a single 12 inch Jorgensen F-Clamp goes for $13.98 at Lowes (as of January 5, 2021), and the same style clamp goes for $3.98 at Harbor Freight (as of January 5, 2021), it's clear you can get a hell of a lot further outfitting your shop at Harbor Freight than Lowes.  And given my preference for Jorgenson clamps has little to do with their ability to get the job done and are entirely about aesthetics, and bias, you should feel no shame in buying them.
That said, the panel clamps and parallel clamps you get at Harbor Freight have nothing on clamps meant for the same purpose from Bessy or Jergenson.  The Bessey and Jorgensons just straight up have more clamping force than anything from Harbor Freight, and their design is just plain superior.  After all, parallel clamps from both are designed to be stood on end end for glue-ups, while Harbor Freight's have to lay down.  Faced with the prospect of every flat surface in the shop being monopolized by glue-ups in Harbor Freight clamps, I think I'd rather opt for the convenience of the Bessey/Jorgenson.
The one true failing all these clamps have in common, though, is they tend to have only about a four inch throat.  This is fine if you're gluing boards together, edge-to-edge, as in the pic above, where the clamp literally needs just a one-inch through, .  However, it isn't much help when you're doing a larger lamination and need to reach six, or eight, or ten inches into the center of the board.
Certainly, you can sort-of reach into the middle of the panels by using cauls and laying on weights and other items, which works fine, but just seems an inelegant solution.
A better option are cam clamps, which seemed designed specifically to provide a deeper throat that works well for my center-of-the-pannel clamping than the traditional F- and parallel clamps.  Unfortunately, for just one of the clamps below at Woodcraft you'd have to shell out $25.99  (as of January 5, 2022).  This seems pretty excessive for what is, at base, two pieces of wood and a short length of steel.
So, how do you get the deeper clamps you want without paying $26 per clamp?  You make them.  Which is what I decided to do.
The plan above is the one I followed, in a general sort of way.  In that, I took the overall design, but tweaked it to make the throat deeper.  And, because I don't see these being anything other than light-duty clamps for lamination glue-ups and the like, I made them entirely from wood.  In this case I made them from off-the-rack ¼" x 2" x 48" red oak strips from my local Menards.  I bought two of these strips at $4.33 each and managed to get two total clamps out of them.  The only thing I didn't buy was the cork for the pads — I already had these as leftovers from some coasters I made a couple years ago.  Also, the pivot-pins for the cams were made from galvanized nails I clipped short and peened over.
Unfortunately, like a dummy I didn't take pics of the process and only have the one pic below showing the finished product.  The bars of these are a single strip of the oak, while the jams are three layers laminated together. 
On the whole, this was a fun, quick little project that took longer than it should have, but that's what happens when you just get to mucking about and aren't in any rush.  Yes, the clamps probably have limited use because they're made of wood, but they work as well as expected and the next time I need to reach deeper into the center of a lamination glue-up, I will gladly trot these bad boys out and put them to work.
Of course, after I made the cam clamps I decided to go a little bigger and made F-style clamps of a similar design out of leftover oak and cherry from other projects.  The only purchased items were a length of steel bar, some threaded rod, and thread t-nuts for the hardware.  The screws to hold the bars to the clamps were just some screws I had laying around.
The design of these was essentially the same as the cam clamp, with a fixed jaw, and a sliding jaw.  The difference is that instead of laminating smaller pieces together I cut these jaws from a solid piece of oak and cut a slot into one end for the steel.  Once the slot was cut and the steel inserted, the open end of the jaw was capped with a piece of cherry.  The handles were also made of cherry, leftover from yet another project.
The pictures above make clear how these work, with the threaded rod running through one of the jaws, attached to a block of wood on the end that swivels — the block of wood is actually three pieces sandwiched together to capture a nut I epoxied onto the end of the rod to allow it to spin freely.
I haven't yet had a project to try these ones out on, but given they're made of steel, and have much more clamping force available because of the screw function, they should be for more than just laminations.  But if they don't have more use than just for laminations, I'm happy enough they can do that.
As with the cam clamps, this was a fun little project and, even if this one didn't result in a piece of furniture to show off — like the jewelry box the wife keeps hounding me to build, and which I could have worked on instead of these — not every project has to actually be about making something.  Something it's good enough to just good off and have fun.  These projects accomplished both.